Without vision and leadership, progress is not possible. Without progress, opportunities are limited. Without opportunities, the future will remain bleak for any people, nation or global community.
The month of February, the celebration of National African American History Month in the United States, and African history in Canada and the United Kingdom, is a time for our entire nation to reflect. We reflect on the struggles and triumphs of a race of people who relentlessly pursued progress. We reflect on the notion that an idea or a dream—combined with leadership, continuity and a vision—can become a reality.
We reflect on the power of opportunity.
At O Street International, we believe opportunities are the nexus to achieving understanding and appreciation amongst groups, regardless of gender, race, ethnic, religion or socioeconomic status— all of which are defining categories of culture. Through cultural and educational exchanges, we strive to increase relationship building across groups both internationally and domestically. We understand the importance of culture; therefore, we use it to form those lasting relationships needed to transcend barriers, open the doors to collaboration and create opportunities to mend relationships that were once broken. And we do this in the spirit of those extraordinary persons who have led the way.
Honoring Those Who Paved the Path
To celebrate National African American History Month, O Street International has created a tradition of commemorating the diplomatic accomplishments of African Americans. Each year, we will recognize one of the many black Americans who have significantly influenced the international cultural diplomacy community.
This year, we honor Former Secretary of State, General Colin Powell.
On January 20, 2001, President George W. Bush appointed Powell to serve as Secretary of State, making him the first African American to serve in this role. Secretary Powell is no stranger to firsts—he was the first black Army officer to command a four-star troop and the only African American to serve on the Joint Chiefs of Staff. These firsts are only a few that Secretary Powell has amassed throughout his decorated years of service.
I first met Secretary Powell in 2004 while serving as a Cultural Envoy for the U.S. Department of State. This experience gave me direct access to America's diplomats, their honest insight and the true pulse of a life led by a global ambassador. It was not lost on me that everyone I encountered regarded Secretary Powell and Deputy Secretary Richard Armitage as remarkable leaders, and I was included in that number. His leadership and vision for the Department of State was different than many had ever experienced. The energy was one of diversity and inclusion. In his own words, "America is a nation of nations, made up of people from every land, of every race and practicing faith. Our diversity is not a source of weakness; it is a source of strength; it is a source of our success."
While serving as Secretary of State during a time of war and diplomatic unrest, an acutely important moment for American cultural diplomacy programming, Secretary Powell made it a priority to spotlight the efforts of those Americans who lent their talents and crafts to build relationships with other nations. On December 13, 2004, he honored the Bureau of Educational and Cultural Affairs' cultural ambassadors and envoys for reaching out to young people around the world. "When it comes to helping people better understand America, the greatest ambassadors we have are the creators of American culture," Powell said at the ceremony. This event, and others like it, fueled cultural diplomacy and gained the support from Congress, the President and U.S. Ambassadors across the globe. "When it comes to helping people better understand America, the greatest ambassadors we have are the creators of American culture." As I heard those words from Secretary Powell, I knew the impact that sentiment would have on the future of cultural diplomacy. He propelled the idea forward, inspiring us all to leverage our role in foreign service to shape the perception of our country. I took that to heart, and I know so many of my peers did as well.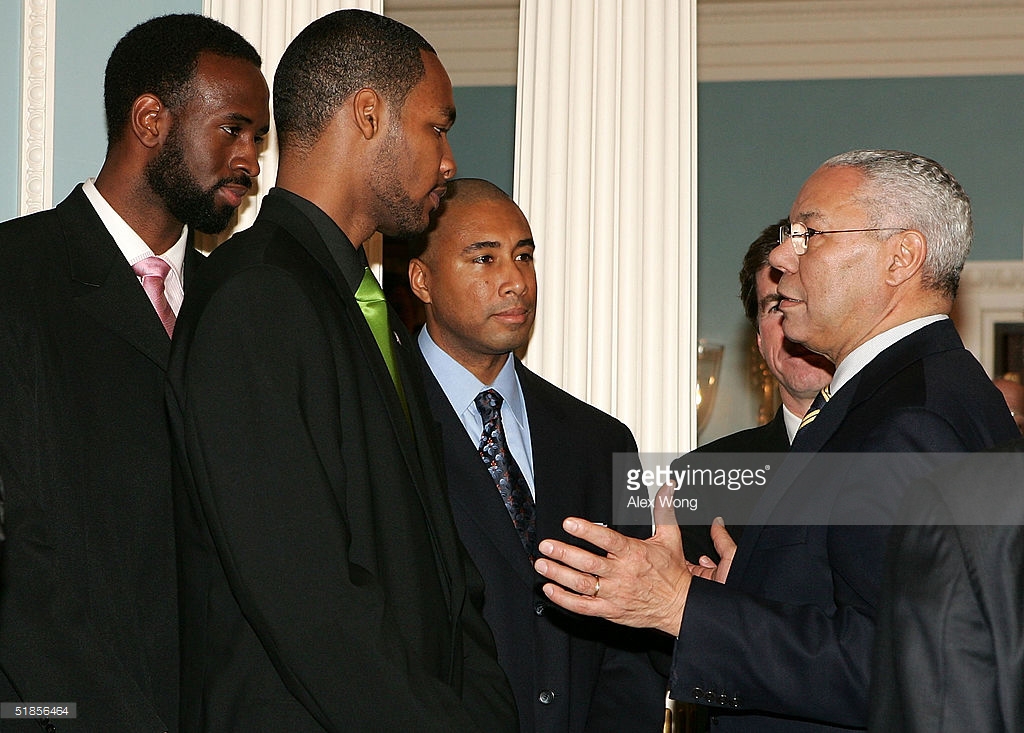 Today, many foreign governments increasingly invest in cultural or soft diplomacy. Thanks to Secretary Powell, and other like-minded leaders, we now understand how culture and diplomacy can promote new ideas. Using the universal languages of the arts, music, technology and sports— the entire gamut of cultural norms that we all share as a global community—we can connect with each other in deeper, more meaningful, ways. We can build with one another, forge a new way of living and understanding one another. We can create change.
Throughout his tenure as Secretary of State, Secretary Powell and his administration truly valued cultural diplomacy outreach and viewed it as an opportunity to foster understanding between the United States and other countries. He has served the United States and the global community with an unparalleled sense of integrity, diplomacy and fortitude, leaving an indelible mark on our nation's history. And for that, we are incredibly grateful.
-By Omari Faulkner