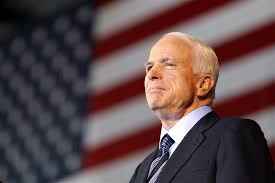 The mark of true leadership is service.  As we honor Senator John McCain, we pay tribute to his lifetime commitment to service to his country.  Senator McCain's distinguished military service places him at the top of the list of those who dedicated themselves to the American people and American ideals.
A true patriot, after being release as a POW, Senator McCain continued to service his country as a senator and an advocate both at home and abroad for human rights, peace and stability.  As Chairman of the Senate Armed Services Committee and through his keen understanding of foreign policy issues, Senator McCain played an active role in American foreign policy leadership and was an advocate for the benefits of diplomacy.
Coined the Maverick, Senator McCain represented his constituents and Americans,  frequently crossing the aisle to work for the benefit of the American people as a whole.
Our thoughts and prayers are with the McCain family.  Our country shares our thanks and gratitude for a life well lived in dedication to service and to country.